Book 47: Dune by Frank Herbert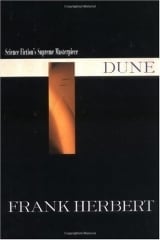 Wednesday, November 7th, 2012 @ 19:00
Librairie-café Les Recyclables: 53, rue de Carouge, Geneva
Dune is a 1965 science fiction novel by Frank Herbert. It won the Hugo Award in 1966, and the inaugural Nebula Award for Best Novel. Dune is frequently cited as the world's best-selling science fiction novel and was the start of the Dune saga. Set in the far future amidst a feudal interstellar society in which noble houses, in control of individual planets, owe allegiance to the imperial House Corrino, Dune tells the story of young Paul Atreides, the heir apparent to Duke Leto Atreides as his family accepts control of the desert planet Arrakis, the only source of the "spice" melange. Melange is the most important and valuable substance in the universe, increasing Arrakis's value as a fief. The story explores the multi-layered interactions of politics, religion, ecology, technology, and human emotion, as the forces of the empire confront each other in a struggle for the control of Arrakis and its "spice".
Nominated by:Andy
Presenter: Andy
Commenter: Felix
Date: 7 November 2012
Time: 19:15 sharp
Format:
1. Members introduction (5 minutes)
2. Club statistics (2 minutes)
3. Introducing interesting books (5 minutes)
4. Brief introduction of next book (2 minutes)
5. Book presentation (20-30 minutes)
– A brief history of author's life
– A short summary of the book
– Main/new ideas that the book brought to the society at the time that it was written
– What were the major implications/reactions at the time that it was written?
– What are the major implications on our daily lives (if any)?
6. Group discussion led by the commentator (45-60 minutes), member's personal view about the book, opposing ideas.
At the end of the meeting, a group of us goes to a bar nearby for a drink, everyone is welcome to join.
Venue: Librairie-café Les Recyclables: 53, rue de Carouge, Genève
Tram 12/13 arrêt Pont d'Arve ou Augustin,
Bus 1/4/44 arrêt Pont d'Arve ou Plainpalais,
Parking vélo devant l'arcade,
Parking voiture sous le centre commercial Plainpalais-centre
Note: reading the book is not a "must" to attend the meeting!
Look forward to see you all!
To purchase the hard copy, you can send an email to Grégory in Librairie-café Les Recyclables:
[email protected]
To participate in the on-going book selection process:
www.mostinfluentialbooks.com
To join the club:
http://www.glocals.com/
#/groups/geneva/geneva-book-club-group.htm
To see the upcoming events:
https://sites.google.com/site/genevabookclubgbc/event/2012