Book 51: "Notre Dame de Paris" by Victor Hugo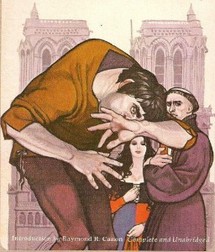 Wednesday, March 6th, 2013 @ 19:00
Librairie-café Les Recyclables: 53, rue de Carouge, Geneva
Esmeralda, a beautiful Gypsy with a kind and generous heart, captures the hearts of many men, including those of a Captain Phoebus and a poor street poet, Pierre Gringoire, but especially those of Quasimodo and his adoptive father, Claude Frollo, the Archdeacon of Notre Dame. Frollo is torn between his obsessive love and the rules of the church. He orders Quasimodo to kidnap her, but the hunchback is suddenly captured by Phoebus and his guards who save Esmeralda. Quasimodo is sentenced to be flogged and turned on the pillory for one hour, followed by another hour's public exposure. He calls for water. Esmeralda, seeing his thirst, offers him a drink. It saves him, and she captures his heart. Esmeralda is later charged with the attempted murder of Phoebus, whom Frollo actually attempted to kill in jealousy, after seeing him about to have sex with Esmeralda, and is tortured and sentenced to death by hanging. As she is being led to the gallows, Quasimodo swings down by the bell rope of Notre Dame...
Nominated by: Flavia
Presente: Vani
Commentator: Folake
Date: 6 March2013
Time: 19:15 sharp
Format:
1. Members introduction (5 minutes)
2. Club statistics (2 minutes)
3. Introducing interesting books (5 minutes)
4. Brief introduction of next book (2 minutes)
5. Book presentation (20-30 minutes)
– A brief history of author's life
– A short summary of the book
– Main/new ideas that the book brought to the society at the time that it was written
– What were the major implications/reactions at the time that it was written?
– What are the major implications on our daily lives (if any)?
6. Group discussion led by the commentator (45-60 minutes), member's personal view about the book, opposing ideas.
At the end of the meeting, a group of us goes to a bar nearby for a drink, everyone is welcome to join.
Venue: Librairie-café Les Recyclables: 53, rue de Carouge, Genève
Tram 12/13 arrêt Pont d'Arve ou Augustin,
Bus 1/4/44 arrêt Pont d'Arve ou Plainpalais,
Parking vélo devant l'arcade,
Parking voiture sous le centre commercial Plainpalais-centre
Note: reading the book is not a "must" to attend the meeting!
Look forward to see you all!
To purchase the hard copy, you can send an email to Grégory in Librairie-café Les Recyclables:
[email protected]
To participate in the on-going book selection process:
www.mostinfluentialbooks.com
To join the club:
http://www.glocals.com/groups/geneva/geneva-book-club.htm
To see the upcoming events:
https://sites.google.com/site/genevabookclubgbc/event/2013