Book 56: "Tipping The Velvet" by Sarah Waters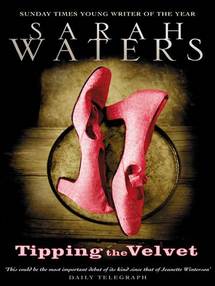 Wednesday, June 5th, 2013 @ 19:00
15, rue des Savoises, la Maison des Associations. room Biko (ground floor), Geneva
A historical novel with strong lesbian themes written by Sarah Waters and published in 1998. Set in Victorian England during the 1890s, it tells a coming of age story about a young woman named Nan who falls in love with a male impersonator, follows her to London, and finds various ways to support herself as she journeys through the city. The picaresque plot elements have prompted scholars and reviewers to compare it to similar British urban adventure stories written by Charles Dickens and Daniel Defoe.
Nominated by: Helen
Presenter: Helen
Commentator: Michelle
Date: 5 June 2013
Time: 19:15 sharp
Format:
1. Members introduction (5 minutes)
2. Club statistics (2 minutes)
3. Introducing interesting books (5 minutes)
4. Brief introduction of next book (2 minutes)
5. Book presentation (20-30 minutes)
– A brief history of author's life
– A short summary of the book
– Main/new ideas that the book brought to the society at the time that it was written
– What were the major implications/reactions at the time that it was written?
– What are the major implications on our daily lives (if any)?
6. Group discussion led by the commentator (45-60 minutes), member's personal view about the book, opposing ideas.
At the end of the meeting, a group of us goes to a bar nearby for a drink, everyone is welcome to join.
Venue: 15, rue des Savoises, la Maison des Associations. room Biko (ground floor)
Map:
http://www.lafea.org/contacts.htm
Note: reading the book is not a "must" to attend the meeting!
Look forward to see you all!
To participate in the on-going book selection process:
www.mostinfluentialbooks.com
To join the club:
http://www.glocals.com/groups/geneva/geneva-book-club.htm
To see the upcoming events:
https://sites.google.com/site/genevabookclubgbc/event/2013