Book 67: "I, Robot" by Asimov"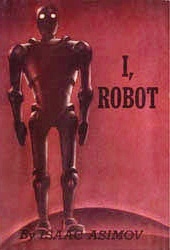 Wednesday, January 22nd, 2014 @ 19:00
15, rue des Savoises, la Maison des Associations. room Thomas Sankara, Geneva
The three laws of Robotics: 1) A robot may not injure a human being or, through inaction, allow a human being to come to harm 2) A robot must obey orders givein to it by human beings except where such orders would conflict with the First Law. 3) A robot must protect its own existence as long as such protection does not conflict with the First or Second Law. With these three, simple directives, Isaac Asimov changed our perception of robots forever when he formulated the laws governing their behavior. In I, Robot, Asimov chronicles the development of the robot through a series of interlinked stories: from its primitive origins in the present to its ultimate perfection in the not-so-distant future--a future in which humanity itself may be rendered obsolete.
Nominated by:
http://www.mostinfluentialbooks.com/user/176/kim/
Presenter: Andy
Commentator: Erdem
Date: 22 Jan 2014
Time: 19:15 sharp
Format:
1. Members introduction (5 minutes)
2. Club statistics (2 minutes)
3. Introducing interesting books (5 minutes)
4. Brief introduction of next book (2 minutes)
5. Book presentation (20-30 minutes)
– A brief history of author's life
– A short summary of the book
– Main/new ideas that the book brought to the society at the time that it was written
– What were the major implications/reactions at the time that it was written?
– What are the major implications on our daily lives (if any)?
6. Group discussion led by the commentator (45-60 minutes), member's personal view about the book, opposing ideas.
At the end of the meeting, a group of us goes to a bar nearby for a drink, everyone is welcome to join.
Venue: 15, rue des Savoises, la Maison des Associations. room room Thomas Sankara.
Map:
http://www.lafea.org/contacts.htm
Note: reading the book is not a "must" to attend the meeting!
Look forward to see you all!
To participate in the on-going book selection process:
www.mostinfluentialbooks.com
To join the club:
http://www.glocals.com/groups/geneva/geneva-book-club.htm