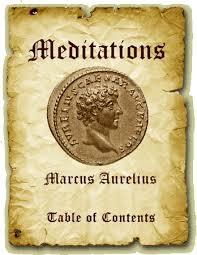 Wednesday, June 25th, 2014 @ 19:00
15, rue des Savoises, la Maison des Associations. room Salle Jacquad (see lobby's noticeboard), Geneva
Marcus Aurelius, emperor of Rome, may be the closest mankind has ever come to producing the philosopher king that Plato envisioned in The Republic. Marcus's writings reveal him to be the last and greatest of the classical Stoics. Stoicism is a school of thought that asserts we have no control over our lives, only control over our perceptions. It advocates that the best life is the life that is lived in accordance with nature (not "nature" as in grass and trees, but "nature" as in the order of the universe). By concentrating one's thoughts and choices on what is good and virtuous, and disregarding the unimportant distractions of everyday life (even life and death are said to be neither good nor bad, but "indifferent"), we can avoid negative emotions like fear, anger, grief, and frustration, and live a life of happiness and tranquility. What Marcus provides us with are the reflections of a man who studied and lived the Stoic life, and was its ultimate exemplar.
E-book:
http://www.jodilley.com/mam/mam.pdf
Presenter: Vani
Commentator: Needed
Date: 25 June 2014
Time: 19:15 sharp
Format:
1. Members introduction (5 minutes)
2. Club statistics (2 minutes)
3. Introducing interesting books (5 minutes)
4. Brief introduction of next book (2 minutes)
5. Book presentation (20-30 minutes)
– A brief history of author's life
– A short summary of the book
– Main/new ideas that the book brought to the society at the time that it was written
– What were the major implications/reactions at the time that it was written?
– What are the major implications on our daily lives (if any)?
6. Group discussion led by the commentator (45-60 minutes), member's personal view about the book, opposing ideas.
At the end of the meeting, a group of us goes to a bar nearby for a drink, everyone is welcome to join.
Venue: 15, rue des Savoises, la Maison des Associations. Room: Salle Jacquad ( there's a list of rooms on the noticeboard in the Maison lobby)
Map:
http://www.lafea.org/contacts.htm
Note: reading the book is not a "must" to attend the meeting!
Look forward to see you all!
To participate in the on-going book selection process:
www.mostinfluentialbooks.com
To see the upcoming events:
http://www.mostinfluentialbooks.com/page/event_list/
To join the club:
http://www.glocals.com/groups/geneva/geneva-book-club.htm