Book 78: "Of Mice and Men by John Steinbeck"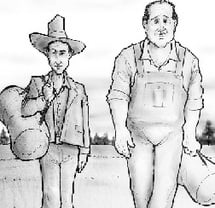 Wednesday, September 3rd, 2014 @ 19:00
15, rue des Savoises, la Maison des Associations. Find the room on lobby's noticeboard., Geneva
Of Mice and Men is the tragic story of George Milton and Lennie Small, two displaced migrant ranch workers, that move from place to place in search of new job opportunities during the Great Depression in California. It is a frequently banned book, risky, controversial, and modern. It asks, and pretty much answers, all the big questions. Does prejudice suck? Yes; Are we all prejudiced? Yes. ; Are we each responsible for the welfare of other people? Yes.; Is killing someone ever OK? Yes. ; Is euthanasia preferable to a living Hell? Yes.; Are men and women different? Yes, and then again, no. ; Is sex scary? It can be. Even when it costs $2.50. Especially when it costs $2.50. ; Is having a dream a bad idea? Maybe yes, if you're within certain groups of our society.; Is this the opposite of the American Dream? Well, now that you mention it…
http://www.mostinfluentialbooks.com/book/146/of-mice-and-men/
E-book:
http://staff.oswego.org/ephaneuf/web/ENG_9R/Steinbeck
,%20John%20-%20Of%20Mice%20and%20Men.pdf
Nominated by: Mehran
Presenter: Kerre
Commentator: Vani
Date: 3 Sept 2014
Time: 19:15 sharp
Format:
1. Members introduction (5 minutes)
2. Club statistics (2 minutes)
3. Introducing interesting books (5 minutes)
4. Brief introduction of next book (2 minutes)
5. Book presentation (20-30 minutes)
– A brief history of author's life
– A short summary of the book
– Main/new ideas that the book brought to the society at the time that it was written
– What were the major implications/reactions at the time that it was written?
– What are the major implications on our daily lives (if any)?
6. Group discussion led by the commentator (45-60 minutes), member's personal view about the book, opposing ideas.
At the end of the meeting, a group of us goes to a bar nearby for a drink, everyone is welcome to join.
Venue: 15, rue des Savoises, la Maison des Associations. Room: See the noticeboard in the lobby)
Map:
http://www.lafea.org/contacts.htm
Note: reading the book is not a "must" to attend the meeting!
Look forward to see you all!
To participate in the on-going book selection process:
www.mostinfluentialbooks.com
To see the upcoming events:
http://www.mostinfluentialbooks.com/page/event_list/
To join the club:
http://www.glocals.com/groups/geneva/geneva-book-club.htm