Book 82: "Vanity Fair" by William Thackeray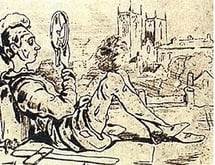 Wednesday, November 26th, 2014 @ 19:00
15, rue des Savoises, la Maison des Associations. Find the room on lobby's noticeboard., Geneva
Vanity Fair was published as a series of installments, beginning in 1847. Even before all installments had been published, the work was an enormous hit. Thackeray was hailed for his realistic satire, and yet at the same time criticized for his ruthless depiction of his characters. It is difficult to locate any redeeming qualities in the characters of Vanity Fair, as each character seems totally consumed by the pursuit of social mobility and wealth. In particular, the novel's heroine (if she can be properly labeled as such) seems entirely devoid of conscience.
http://www.mostinfluentialbooks.com/book/239/vanity-fair/
Nominated by: lielupes_u
Presenter: Kerre
Commentator: Steve
Date: 26 Nov 2014
Time: 19:15 sharp
Format:
1. Members introduction (5 minutes)
2. Club statistics (2 minutes)
3. Introducing interesting books (5 minutes)
4. Brief introduction of next book (2 minutes)
5. Book presentation (20-30 minutes)
– A brief history of author's life
– A short summary of the book
– Main/new ideas that the book brought to the society at the time that it was written
– What were the major implications/reactions at the time that it was written?
– What are the major implications on our daily lives (if any)?
6. Group discussion led by the commentator (45-60 minutes), member's personal view about the book, opposing ideas.
At the end of the meeting, a group of us goes to a bar nearby for a drink, everyone is welcome to join.
Venue: 15, rue des Savoises, la Maison des Associations. Room: See the noticeboard in the lobby)
Map:
http://www.lafea.org/contacts.htm
Note: reading the book is not a "must" to attend the meeting!
Look forward to see you all!
To participate in the on-going book selection process:
www.mostinfluentialbooks.com
To see the upcoming events:
http://www.mostinfluentialbooks.com/page/event_list/
To join the club:
http://www.glocals.com/groups/geneva/geneva-book-club.htm