Book 81: "Invisible Man" by Ralph Ellison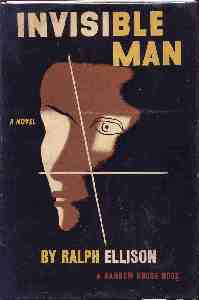 Wednesday, November 12th, 2014 @ 19:00
15, rue des Savoises, la Maison des Associations. Find the room on lobby's noticeboard., Geneva
First published in 1952 and immediately hailed as a masterpiece, Invisible Man is one of those rare novels that have changed the shape of American literature. For not only does Ralph Ellison's nightmare journey across the racial divide tell unparalleled truths about the nature of bigotry and its effects on the minds of both victims and perpetrators, it gives us an entirely new model of what a novel can be. As he journeys from the Deep South to the streets and basements of Harlem, from a horrifying "battle royal" where black men are reduced to fighting animals, to a Communist rally where they are elevated to the status of trophies, Ralph Ellison's nameless protagonist ushers readers into a parallel universe that throws our own into harsh and even hilarious relief. Suspenseful and sardonic, narrated in a voice that takes in the symphonic range of the American language, black and white, Invisible Man is one of the most audacious and dazzling novels of our century.
www.mostinfluentialbooks.com/book/298/invisible-man/
Nominated by: Mehran
Presenter: Setve
Commentator: Steve
Date: 12 Nov 2014
Time: 19:15 sharp
Format:
1. Members introduction (5 minutes)
2. Club statistics (2 minutes)
3. Introducing interesting books (5 minutes)
4. Brief introduction of next book (2 minutes)
5. Book presentation (20-30 minutes)
– A brief history of author's life
– A short summary of the book
– Main/new ideas that the book brought to the society at the time that it was written
– What were the major implications/reactions at the time that it was written?
– What are the major implications on our daily lives (if any)?
6. Group discussion led by the commentator (45-60 minutes), member's personal view about the book, opposing ideas.
At the end of the meeting, a group of us goes to a bar nearby for a drink, everyone is welcome to join.
Venue: 15, rue des Savoises, la Maison des Associations. Room: See the noticeboard in the lobby)
Map:
http://www.lafea.org/contacts.htm
Note: reading the book is not a "must" to attend the meeting!
Look forward to see you all!
To participate in the on-going book selection process:
www.mostinfluentialbooks.com
To see the upcoming events:
http://www.mostinfluentialbooks.com/page/event_list/
To join the club:
http://www.glocals.com/groups/geneva/geneva-book-club.htm