Book 83: Orphan Master, end-year party/gift sharing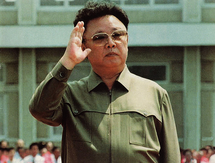 Wednesday, December 10th, 2014 @ 19:00
ICV Arcade, 106, rue de Carouge, Case postale 755 1211 Genève 4, Geneva
It is time to celebrate and have a wild book club party (and by wild we mean sharing gifts on top of book discussion)
The meeting has two parts:
Part 1: gift sharing. As previous years, please bring along a book that you would like to give away as gift wrapped so people can't see the cover. Please write a note on the first page of the book for a stranger (whoever might end up getting your book) and wish her/him whatever you like for 2015 or anything else you want to say to a fellow stranger book reader. We start the meeting by randomly giving the wrapped books to the participants and get them to open the book and read the note out loud.
Part 2: our usual book discussion routine:
Book name: The Orphan Master's Son by Adam Johnson (English 2012):
The book deals with intertwined themes of propaganda, identity and state power in North Korea. The novel was awarded the 2013 Pulitzer Prize for fiction. Jun Do is The Orphan Master's Son, a North Korean citizen with a rough past who is working as a government-sanctioned kidnapper when we first meet him. He is hardly a sympathetic character, but sympathy is not author Johnson's aim. In a totalitarian nation of random violence and bewildering caprice's poor, gray place that nonetheless refers to itself as "the most glorious nation on earth" an unnatural tension exists between a citizen's national identity and his private life. Through Jun Do's story we realize that beneath the weight of oppression and lies beats a heart not much different from our own one that thirsts for love, acceptance, and hope, and that realization is at the heart of this shockingly believable, immersive, and thrilling novel.
http://www.mostinfluentialbooks.com/book/215/the-orphan-masters-son/
Nominated: Rick
Presenter: Rick
Commentator: Needed
Date: 10 Dec 2014
Time: 19:15 sharp
Format:
1. Members introduction (5 minutes)
2. Club statistics (2 minutes)
3. Introducing interesting books (5 minutes)
4. Brief introduction of next book (2 minutes)
5. Book presentation (20-30 minutes)
– A brief history of author's life
– A short summary of the book
– Main/new ideas that the book brought to the society at the time that it was written
– What were the major implications/reactions at the time that it was written?
– What are the major implications on our daily lives (if any)?
6. Group discussion led by the commentator (45-60 minutes), member's personal view about the book, opposing ideas.
At the end of the meeting, a group of us goes to a bar nearby for a drink, everyone is welcome to join.
Venue: ICV Arcade, 106, rue de Carouge, Case postale 755 1211 Genève 4
Map:
http://www.lafea.org/contacts.htm
Note: reading the book is not a "must" to attend the meeting!
Look forward to see you all!
To participate in the on-going book selection process:
www.mostinfluentialbooks.com
To see the upcoming events:
http://www.mostinfluentialbooks.com/page/event_list/
To join the club:
http://www.glocals.com/groups/geneva/geneva-book-club.htm