Book 85: A Day in the Life of Ivan Denisovitch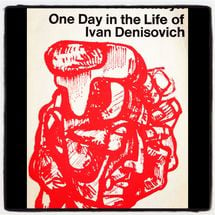 Wednesday, February 25th, 2015 @ 19:00
Maison des Associations, 15, rue des Savoises 1205 Geneva (see the notice board for the room name), Geneva
The Gulag, the Stalinist labour camps to which millions of Russians were condemned for political deviation, has become a household word in the West. This is due to the accounts of many witnesses, but most of all to the publication, in 1962, of One Day in the Life of Ivan Denisovich, the novel that first brought Aleksandr Solzhenitsyn to public attention. His story of one typical day in a labour camp as experienced by prisoner Ivan Denisovich Shukhov is sufficient to describe the entire world of the Soviet camps.First published in the Soviet literary magazine Novy Mir (New World). The story is set in a Soviet labor camp in the 1950s and describes a single day of an ordinary prisoner, Ivan Denisovich Shukhov. The book's publication was an extraordinary event in Soviet literary history since never before had an account of Stalinist repression been openly distributed.
www.mostinfluentialbooks.com/book/309/a-day-in-the-life-of-ivan-denisovitch/
Nominated by: Ros
Presenter: Ros
Commentator: Needed
Date:25 Feb 2015
Time: 19:15 sharp
Format:
1. Members introduction (5 minutes)
2. Club statistics (2 minutes)
3. Introducing interesting books (5 minutes)
4. Brief introduction of next book (2 minutes)
5. Book presentation (20-30 minutes)
– A brief history of author's life
– A short summary of the book
– Main/new ideas that the book brought to the society at the time that it was written
– What were the major implications/reactions at the time that it was written?
– What are the major implications on our daily lives (if any)?
6. Group discussion led by the commentator (45-60 minutes), member's personal view about the book, opposing ideas.
At the end of the meeting, a group of us goes to a bar nearby for a drink, everyone is welcome to join.
Venue: Maison des Associations, 15, rue des Savoises 1205 Geneva (see the notice board for the room name)
Map:
http://www.lafea.org/contacts.htm
Note: reading the book is not a "must" to attend the meeting!
Look forward to see you all!
To participate in the on-going book selection process:
www.mostinfluentialbooks.com
To see the upcoming events:
http://www.mostinfluentialbooks.com/page/event_list/
To join the club:
http://www.glocals.com/groups/geneva/geneva-book-club.htm