Book 89: Buddenbrooks by Thomas Mann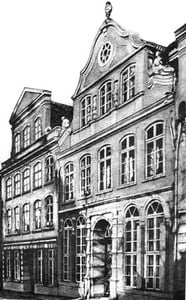 Wednesday, April 22nd, 2015 @ 19:00
Maison des Associations, 15, rue des Savoises 1205 Geneva (see the notice board for the room name), Geneva
Buddenbrooks was Mann's first novel, written when Mann was in his early twenties. Published in German in 1901, it's the saga of a merchant family based in the Hansa port of Lübeck during the 19th century, over 3 generations. It combines historical perspective with a keenly observed protrait of the bourgeoisie, and is written in Mann's characteristic detached, ironic style. The story and characters closely match Mann's own family history which explains its realism. The novel was an immediate success in Germany, and together with "The Magic Mountain" was the main reason for Mann receiving the Nobel prize for literature.
www.mostinfluentialbooks.com/book/153/buddenbrooks/
Presenter: Nick
Commentator: TBD
Date: 22 April 2015
Time: 19:15 sharp
Format:
1. Members introduction (5 minutes)
2. Club statistics (2 minutes)
3. Introducing interesting books (5 minutes)
4. Brief introduction of next book (2 minutes)
5. Book presentation (20-30 minutes)
– A brief history of author's life
– A short summary of the book
– Main/new ideas that the book brought to the society at the time that it was written
– What were the major implications/reactions at the time that it was written?
– What are the major implications on our daily lives (if any)?
6. Group discussion led by the commentator (45-60 minutes), member's personal view about the book, opposing ideas.
At the end of the meeting, a group of us goes to a bar nearby for a drink, everyone is welcome to join.
Venue: Maison des Associations, 15, rue des Savoises 1205 Geneva (see the notice board for the room name)
Map:
http://www.lafea.org/contacts.htm
Note: reading the book is not a "must" to attend the meeting!
Look forward to see you all!
To participate in the on-going book selection process:
www.mostinfluentialbooks.com
To see the upcoming events:
http://www.mostinfluentialbooks.com/page/event_list/
To join the club:
http://www.glocals.com/groups/geneva/geneva-book-club.htm