Book 95: The Right Stuff by Tom Wolfe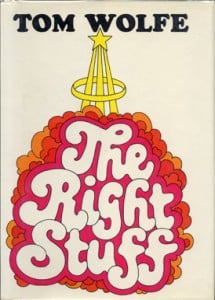 Wednesday, July 29th, 2015 @ 19:00
Maison des Associations, 15, rue des Savoises 1205 Geneva (see the notice board for the room name), Geneva
The story of America's space program from its inception in the 1950's up to the end of the Gemini program (so it doesn't include the Apollo program which culminated on the moon landings from 1969). A wonderful recital of larger-than-life, heroic, risk-taking on an epic scale with a budget to match. Wolfe's style, dubbed the new journalism, doesn't pull any punches and is full of funny, pithy comments on the people who first put Americans into space. It's a story of technology, politics and above all of hard-bitten test pilots who aren't afraid to put their lives on the line and who've watched their friends die doing the same.
http://www.mostinfluentialbooks.com/book/293/the-right-stuff/
ebook:
Presenter: Nick
Commentator: Andy
Date: 29 July 2015
Time: 19:15 sharp
Format:
1. Members introduction (5 minutes)
2. Club statistics (2 minutes)
3. Introducing interesting books (5 minutes)
4. Brief introduction of next book (2 minutes)
5. Book presentation (20-30 minutes)
– A brief history of author's life
– A short summary of the book
– Main/new ideas that the book brought to the society at the time that it was written
– What were the major implications/reactions at the time that it was written?
– What are the major implications on our daily lives (if any)?
6. Group discussion led by the commentator (45-60 minutes), member's personal view about the book, opposing ideas.
At the end of the meeting, a group of us goes to a bar nearby for a drink, everyone is welcome to join.
Venue: Maison des Associations, 15, rue des Savoises 1205 Geneva (see the notice board for the room name)
Map:
http://www.lafea.org/contacts.htm
Note: reading the book is not a "must" to attend the meeting!
Look forward to see you all!
To participate in the on-going book selection process:
www.mostinfluentialbooks.com
To see the upcoming events:
http://www.mostinfluentialbooks.com/page/event_list/
To join the club:
http://www.glocals.com/groups/geneva/geneva-book-club.htm