Book 97: Watchmen by Alan Moore and Dave Gibbons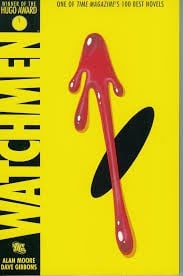 Wednesday, September 9th, 2015 @ 19:00
Maison des Associations, 15, rue des Savoises 1205 Geneva (see the notice board for the room name), Geneva
Watchmen is a graphic novel originally pubished as a limited comic series between 1986 and 1987. Set in an alternate America where super powered beings are being stripped off of both their costumes and moral duties, Watchmen looks deep into the superhero psyche. Watchmen was recognized in Time's List of the 100 Best Novels as one of the best English language novels published since 1923 and is regarded my many as one of the most significant works of 20th Century literature.
If you have never read a graphic novel, this is the best place to start. The depth, complexity and originality are outstanding.
http://www.mostinfluentialbooks.com/book/325/watchmen/
Nominated by Andy
Presenter: Philip
Commentator: Andy
Date: 9 September 2015
Time: 19:15 sharp
Format:
1. Members introduction (5 minutes)
2. Club statistics (2 minutes)
3. Introducing interesting books (5 minutes)
4. Brief introduction of next book (2 minutes)
5. Book presentation (20-30 minutes)
– A brief history of author's life
– A short summary of the book
– Main/new ideas that the book brought to the society at the time that it was written
– What were the major implications/reactions at the time that it was written?
– What are the major implications on our daily lives (if any)?
6. Group discussion led by the commentator (45-60 minutes), member's personal view about the book, opposing ideas.
At the end of the meeting, a group of us goes to a bar nearby for a drink, everyone is welcome to join.
Venue: Maison des Associations, 15, rue des Savoises 1205 Geneva (see the notice board for the room name)
Map:
http://www.lafea.org/contacts.htm
Note: reading the book is not a "must" to attend the meeting!
Look forward to see you all!
To participate in the on-going book selection process:
www.mostinfluentialbooks.com
To see the upcoming events:
http://www.mostinfluentialbooks.com/page/event_list/
To join the club:
http://www.glocals.com/groups/geneva/geneva-book-club.htm