Book 99: The Mayor of Casterbridge by Thomas Hardy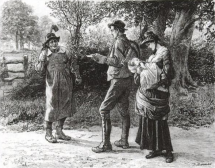 Wednesday, November 25th, 2015 @ 19:00
MLC Librairie Café, Rue de Carouge 98. 1205 Geneva., Geneva
Please join us to discuss The Mayor of Casterbridge.
Teaser:
Michael Henchard, a successful grain merchant, is the Mayor of the Wessex market town of Casterbridge and he has been keeping a dark secret for eighteen years. As his secret threatens to surface, and business competition arrives, his life becomes increasingly difficult.
"The Mayor of Casterbridge" charts the course of one man's character and the dramatic change of an isolated rural community into a modern city.
Free AudioBook:
https://librivox.org/the-mayor-of-casterbridge-by-thomas-hardy/
If you've read it, come along and discuss it in an atmosphere of curiosity and good humour.
If you haven't read it: no problem! Come along anyway. Our meetings always include a detailed overview of the book, its author and its main themes so there's plenty to talk about.
Geneva International Book Group meetings are culturally diverse, open-minded and friendly. Everyone is welcome and attendance is free of charge.
The meeting runs from 7pm to 9pm, then we will move to the bar across the road. Please be prompt.
How to get there.
MLC Librairie Café, Rue de Carouge 98. 1205 Geneva.
From the Augustins tram stop, walk 3 to 5 minutes towards Carouge. The café is at an angle on the right, almost opposite the IFAGE building.
http://www.librairie-cafe.com/nous-contacter-1.html
Visit our Goodreads group:
https://www.goodreads.com/group/show/174078-geneva-international-book-club