Book 100: Brave New World by Aldous Huxley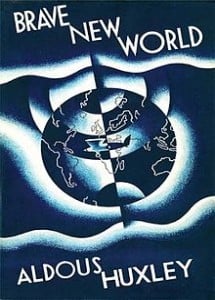 Wednesday, January 20th, 2016 @ 19:00
MLC Librairie Café, Rue de Carouge 98. 1205 Geneva., Geneva
A dystopian, hedonistic society obsessed with material possessions, where most of the population have a suppressed libido and conform to societal rules as a result of social conditioning and regular use of sedatives.
But enough about Geneva! This month's book is "Brave New World" by Aldous Huxley.
It's the 100th book presented by The Geneva International Book Club!
If you haven't read it, now is your chance to correct this regrettable omission. You have plenty of time to pick up a copy and read it during the holiday period.
Teaser:
The book describes a fictitious world where "perfection" is taken to a new level. Similar to George Orwell's book 1984, Brave New World fantasizes about a future place, Utopia, where everyone is controlled and most people are brainwashed. Birth is a scientific procedure. People are taught to think a certain way when they are young and then programmed to be happy and to enjoy life. Art and religion aren't allowed. They can't love, but the government encourages them to have fun and have lots of sex. This book takes a futuristic view to an extreme to show how dangerous control and lack of individuality can be.
If you've read it, come along and discuss it in an atmosphere of curiosity and good humour.
If you haven't read it: no problem! Come along anyway. Our meetings always include a detailed overview of the book, its author and its main themes so there's plenty to talk about.
Geneva International Book Group meetings are culturally diverse, open-minded and friendly. Everyone is welcome and attendance is free of charge. (But please buy a drink from the bar.)
The meeting runs from 7pm to 9pm, then we will move to the bar across the road. Please be prompt.
How to get there.
MLC Librairie Café, Rue de Carouge 98. 1205 Geneva.
From the Augustins tram stop, walk 3 to 5 minutes towards Carouge. The café is at an angle on the right, almost opposite the IFAGE building.
http://www.librairie-cafe.com/nous-contacter-1.html
Visit our Goodreads group:
https://www.goodreads.com/group/show/174078-geneva-international-book-club