Book 102: Do Androids Dream of Electric Sheep?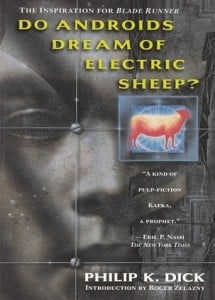 Wednesday, March 23rd, 2016 @ 19:00
MLC Librairie Café, Rue de Carouge 98. 1205 Geneva., Geneva
This month's book is "Do Androids Dream of Electric Sheep" by Philip K Dick.
The highly prolific Philip K Dick is known as a science fiction writer, but he was actually a remarkable visionary and his books confront a range of philosophical, sociological and political themes.
This book is perhaps his best known because "Blade Runner" was based on it. Whether or not you are a fan of the movie, you will find the book surprising and thought-provoking, and I hope it will lead many of you to read more of his work.
From Wikipedia:
First published in 1968, the novel is set in a post-apocalyptic San Francisco, where Earth's life has been greatly damaged by nuclear global war. Most animal species are endangered or extinct due to extreme radiation poisoning, so that owning an animal is now a sign of status and empathy.
The main plot follows Rick Deckard, a bounty hunter who is faced with "retiring" six escaped Nexus-6 model androids. The novel explores the issue of what it is to be human.
Excitingly, there is a recently published graphic novel version available! It contains the full text of the novel, is beautifully illustrated and critically acclaimed.
If you've read it, come along and discuss it in an atmosphere of curiosity and good humour.
If you haven't read it: no problem! Come along anyway. Our meetings always include a detailed overview of the book, its author and its main themes so there's plenty to talk about.
Geneva International Book Group meetings are culturally diverse, open-minded and friendly. Everyone is welcome and attendance is free of charge. (But please buy a drink from the bar.)
The meeting runs from 7pm to 9pm, then we will move to the bar across the road. Please be prompt.
(HEADS-UP! April's book will be "Steppenwulf" by Hermann Hesse)
How to get there.
MLC Librairie Café, Rue de Carouge 98. 1205 Geneva.
From the Augustins tram stop, walk 3 to 5 minutes towards Carouge. The café is at an angle on the right, almost opposite the IFAGE building.
http://www.librairie-cafe.com/nous-contacter-1.html
Visit our Goodreads group:
https://www.goodreads.com/group/show/174078-geneva-international-book-club