Book 103: Steppenwolf by Herman Hesse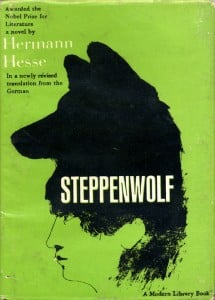 Wednesday, April 20th, 2016 @ 19:00
MLC Librairie Café, Rue de Carouge 98. 1205 Geneva., Geneva
This month's book is "Steppenwolf" by Herman Hesse.
Published in 1927, this was Hesse's tenth novel. He wrote it in Basel and Zurich while separated from his wife and going through a personal crisis of isolation and suicidal thoughts.
(As always, we will begin the meeting with a chorus of "If you're happy and you know it".)
From Wikipedia:
"Combining autobiographical and psychoanalytic elements, the novel was named after the lonesome wolf of the steppes. The story in large part reflects a profound crisis in Hesse's spiritual world during the 1920s while memorably portraying the protagonist's split between his humanity and his wolf-like aggression and homelessness. Hesse would later assert that the book was largely misunderstood."
If you've read it, come along and discuss it in an atmosphere of curiosity and good humour.
If you haven't read it: no problem! Come along anyway. Our meetings always include a detailed overview of the book, its author and its main themes so there's plenty to talk about.
Geneva International Book Group meetings are culturally diverse, open-minded and friendly. Everyone is welcome and attendance is free of charge. (But please buy a drink from the bar.)
The meeting runs from 7pm to 9pm, then we will move to the bar across the road. Please be prompt.
How to get there.
MLC Librairie Café, Rue de Carouge 98. 1205 Geneva.
From the Augustins tram stop, walk 3 to 5 minutes (depending on your gait and anxiety level) towards Carouge. The café is at an angle on the right, almost opposite the IFAGE building.
http://www.librairie-cafe.com/nous-contacter-1.html
Visit our Goodreads group:
https://www.goodreads.com/group/show/174078-geneva-international-book-club