Book 106: Fear and Loathing in Las Vegas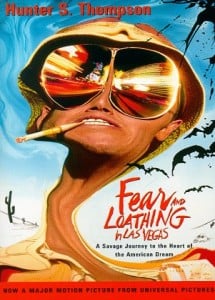 Wednesday, September 21st, 2016 @ 19:00
MLC Librairie Café, Rue de Carouge 98. 1205 Geneva., Geneva
This month's book is Fear and Loathing in Las Vegas by Hunter S Thompson, which was described by The New York Times as the "best book on the dope decade.
From Amazon.com:
On assignment from a sports magazine to cover "the fabulous Mint 400"--a free-for-all biker's race in the heart of the Nevada desert--the drug-a-delic duo stumbles through Vegas in hallucinatory hopes of finding the American dream (two truck-stop waitresses tell them it's nearby, but can't remember if it's on the right or the left). They of course never get the story, but they do commit the only sins in Vegas: "burning the locals, abusing the tourists, terrifying the help." For Thompson to remember and pen his experiences with such clarity and wit is nothing short of a miracle; an impressive feat no matter how one feels about the subject matter. A first-rate sensibility twinger, Fear and Loathing in Las Vegas is a pop-culture classic, an icon of an era past, and a nugget of pure comedic genius. --Rebekah Warren
The book presentation will be made by Phillip, who has promised to wear a themed outfit and remain in character throughout.
If you've read it, come along and discuss it in an atmosphere of curiosity and good humour.
If you haven't read it: no problem! Come along anyway. Our meetings always include a detailed overview of the book, its author and its main themes so there's plenty to talk about.
Bonus info: the book for October will be The Tale of Genji by Murasaki Shikibu
Geneva International Book Group meetings are culturally diverse, open-minded and friendly. Everyone is welcome and attendance is free of charge. (But please buy a drink from the bar.)
How to get there.
MLC Librairie Café, Rue de Carouge 98. 1205 Geneva.
From the Augustins tram stop, walk 3 to 5 minutes (depending on your gait and anxiety level) towards Carouge. The café is at an angle on the right, almost opposite the IFAGE building.
http://www.librairie-cafe.com/nous-contacter-1.html
Visit our Goodreads group:
https://www.goodreads.com/group/show/174078-geneva-international-book-club