Book 108: Alice's Adventures in Wonderland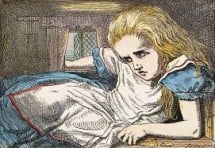 Wednesday, November 30th, 2016 @ 19:00
MLC Librairie Café, Rue de Carouge 98. 1205 Geneva., Geneva
This month's book is Alice's Adventures in Wonderland (commonly shortened to Alice in Wonderland) by Lewis Carroll, which will be presented by Briony.
From Wikipedia:
"An 1865 novel written by English mathematician Charles Lutwidge Dodgson under the pseudonym Lewis Carroll, it tells of a girl named Alice falling through a rabbit hole into a fantasy world populated by peculiar, anthropomorphic creatures. The tale plays with logic, giving the story lasting popularity with adults as well as with children. It is considered to be one of the best examples of the literary nonsense genre. Its narrative course and structure, characters and imagery have been enormously influential in both popular culture and literature, especially in the fantasy genre."
Themes include: children's literature, nonsense, hallucinations, political allegory, rabbits.
If you've read it, come along and discuss it in an atmosphere of curiosity and good humour.
If you haven't read it: no problem! Come along anyway. Our meetings always include a detailed overview of the book, its author and its main themes so there's plenty to talk about.
(Please note that the Geneva International Book Club does not condone or encourage the use of size-altering drugs.)
Geneva International Book Group meetings are culturally diverse, open-minded and friendly. Everyone is welcome and attendance is free of charge. (But please buy a drink from the bar.)
How to get there.
MLC Librairie Café, Rue de Carouge 98. 1205 Geneva.
From the Augustins tram stop, stroll casually for 3 to 5 minutes towards Carouge. The café is at an angle on the right, almost opposite the IFAGE building.
http://www.librairie-cafe.com/nous-contacter-1.html