Book 112: Dead Souls by Nikolai Gogol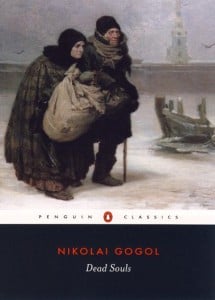 Wednesday, April 26th, 2017 @ 19:00
MLC Librairie Café, Rue de Carouge 98. 1205 Geneva., Geneva
This month's book is Dead Souls (Мёртвые ду́ши): a novel by Nikolai Gogol, first published in 1842, widely regarded as an exemplar of 19th-century Russian Literature and regarded by many as one of the most important novels of all time.
Superficially, the novel tells the story of Chichikov, who embarks on a (not entirely honest or successful) scheme to buy from landowners their "souls" (serfs) who have passed away , as a way of making money and gaining status for himself. On a deeper level, the title refers to the lack of morality in the characters Chichikov encounters and the general corruption of Russian society at the time.
From Bookslut.com:
"Dead Souls has been banned as seditious and celebrated as the grandfather of socialist realism, published as nonfiction and as an adventure novel, called the Russian Odyssey, the Russian Don Quixote and, by the author himself, the Russian Divine Comedy. Many consider it a failure; others rank it as one of the best novels ever written."
From TheGuardian.com:
"Dead Souls has that free and joyful energy of a work of art that is the first of its kind, with no real models to fear or emulate (like Chaucer again, Shakespeare, or Sterne, whom Gogol admired). Without Gogol's imagination Dostoevsky would have been quite different, and Bulgakov less wildly inventive, perhaps. Chekhov and Turgenev owed him subtler things. Nabokov was right about his greatness, and right to point out that he was a creator of a new reality."
Themes: greed, duplicity, materialism, 19th century Russia
If you've read it, come along and discuss it in an atmosphere of curiosity and good humour.
If you haven't read it: no problem! Come along anyway. Our meetings always include a detailed overview of the book, its author and its main themes so there's plenty to talk about.
Geneva International Book Group meetings are culturally diverse, open-minded and friendly. Everyone is welcome and attendance is free of charge. (But please buy a drink from the bar.)
How to get there.
MLC Librairie Café, Rue de Carouge 98. 1205 Geneva.
From the Augustins tram stop, stroll casually with mounting anticipation for 3 to 5 minutes towards Carouge. The café is at an angle on the right, almost opposite the IFAGE building.
http://www.librairie-cafe.com/nous-contacter-1.html