Book 113: Fahrenheit 451 by Ray Bradbury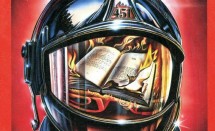 Wednesday, May 24th, 2017 @ 19:00
MLC Librairie Café, Rue de Carouge 98. 1205 Geneva., Geneva
This month's book is Ray Bradbury's 1953 award-winning dystopian novel: Fahrenheit 451. It tells the story of a future American society in which all books are outlawed and any that are found by the authorities are burned. (The book's title refers to the temperature at which book paper ignites.)
Bradbury wrote this novel at the height of McCarthyism and was motivated by a genuine fear that book-burning was going to become common in The U.S.. He was also passing comment on the effect of mass media on people's general reading habits; an issue that is even more pertinent today than it was in his time. He even accurately predicted the steady decrease in book club attendances as people become obsessed with social media and are generally more self-absorbed.
Themes: censorship, state control, reading, marshmallows (probably)
If you've read it, come along and discuss it in an atmosphere of curiosity and good humour.
If you haven't read it: no problem! Come along anyway. Our meetings always include a detailed overview of the book, its author and its main themes so there's plenty to talk about.
Geneva International Book Group meetings are culturally diverse, open-minded and friendly. Everyone is welcome and attendance is free of charge. (But please buy a drink from the bar.)
How to get there.
MLC Librairie Café, Rue de Carouge 98. 1205 Geneva.
From the Augustins tram stop, stroll casually with mounting anticipation for 3 to 5 minutes towards Carouge. The café is at an angle on the right, almost opposite the IFAGE building.
http://www.librairie-cafe.com/nous-contacter-1.html